Health and safety directors within the construction sector are rapidly adopting new technology. However, during a recent session at the Building Transformations conference in Toronto, it was emphasized that the next generation of technology holds even more significant breakthroughs.
Three panelists and moderator Dr. Joel Moody, Ontario's chief prevention officer, pointed out a substantial gap between those who hesitate to embrace the latest safety technology and those who readily adopt it.
Looking ahead, these experts anticipate that ongoing digitization research and the development of new software will lead to substantial advancements in AI and predictive analysis, ultimately ushering in a new era of safer workplaces.
One of the panelists, Steve Chaplin, senior vice-president for health, safety, and environment at Ellis Don, explained his company's approach to technology adoption, stating, "But I think similar to a lot of companies in the health and safety space, we haven't advanced as much in the digitization processes as we want to. We've standardized a lot of digitization processes, EHS software, things like that, but we haven't gotten into the predictive analysis and AI yet. But we see that on the horizon."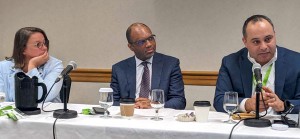 <- DON WALL – Panel moderator Dr. Joel Moody (centre), Ontario's chief prevention officer, listens to panellist Amer Dalain of Microsoft as Erin Oliver of Modern Niagara looks on. The health and safety panel was held as part of the recent Building Transformations conference in Toronto.
The session, titled "Using Technology to Advance Worker Safety," featured contributions from Amer Dalain, global solutions strategy leader at Microsoft, and Erin Oliver, vice-president for health, safety, and sustainability at Modern Niagara.
The reasons behind the slow adoption of technology in the construction industry are multifaceted. Chaplin mentioned that complacency and a culture of acceptance prevail in construction, with workers eventually tuning out safety alerts from construction vehicles' beepers. Innovative solutions such as advanced AI or 360-degree cameras that automatically disengage equipment or alert operators may be the way forward. Chaplin added, "It's a couple of things: the courage to try something different; the awareness of what technologies are actually out there in the market; general industry acceptance; and there's a cost to it."
Privacy concerns also present a significant hurdle. Dalain highlighted how workers may have concerns about their privacy, particularly in instances like using QR codes for health screening during the COVID pandemic.
Oliver advocated for the early integration of health and safety technologies into construction projects, starting from the design phase. This approach ensures that safety becomes an integral part of construction practices and is deeply embedded in both the design phase and engineered controls level. Oliver mentioned, "We've changed the model of how we practice safety inside Modern Niagara. We've partnered with research institutions. We've partnered with other partners and we've actually started a research excellence specialist on our health and safety team…"
Dalain shared insights into the flow of new products and software emerging from research and development. For instance, he highlighted the usefulness of hyper-local weather intelligence in enhancing productivity and worker safety on job sites.
Looking ahead to the future of health and safety technology, Dalain expressed optimism about the growth of general intelligence, which combines various forms of intelligence, including text, images, context, physics, math, geography, and history, to predict future events. He emphasized that this technology is available for industries to harness and adapt to their specific needs, much like electricity evolved to power various devices.
In summary, health and safety specialists should remain attentive to these emerging technologies as they hold significant promise for the industry's advancement.